Product Description
Call for availability. These telescopes are made with Optec focusers and availability will vary based on availability of focusers.
Premier Stellarvue Optics! These are not mass-produced optics.The SVSX130 objective is hand figured in our optical shop in Auburn California to the highest optical specifications. We provide a certified test report demonstrating its optical prowess.
Stellarvue's six element, apochromatic, imaging astrograph is made with ED and Lanthanum glasses to create a wide, flat, excellently color-corrected field. The system operates at 655 mm focal length, f-5. Think of it as a Petzval using triplets on either end so no other flattener/reducer is needed. Each element is extremely broadband fully multi-coated to eliminate reflections. Combining these coatings with excellent optical correction, this imager is capable of reaching deep and showing more than smaller instruments intended for this purpose.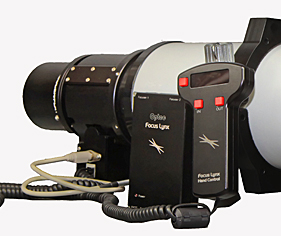 To further increase the ability of the system, we are using the Optec 3" TCF-S3 motorized, temperature compensating focuser. This focuser has 1" of travel, is extremely robust and stable. Once the temperature compensation is worked out, imaging is much less of a hassle as temperatures drop. The unit compensates for optical shift in this system as temperatures change. Everything is included, the Focus Lynx, Motor, Temperature Sensor and new hand controller. Since we include everything you can use this focuser both with your laptop or with the hand control. Optec's online manual here.
Heavy duty CNC machined rings are made in our shop to mount the system rigidly and we include our TP13 Losmandy style plate with each system. Also included is our thickly padded C130L heavy duty case.
This astrograph is designed specifically for astro imaging at f-5. This is not a visual telescope. If you are looking for a 130 mm telescope that may be converted to an imaging astrograph our SVX130 is the telescope you need.
Free shipping: Order now and when ready the telescope will ship free to the lower 48 states only. We will ship by either UPS Ground or Fed Ex Ground. You can upgrade shipping methods by paying the difference. Call us at (530) 823-7796.
Tax: No tax is charged when sold and shipped outside of California. If you live in California and you are concerned about paying tax call us at (530) 823-7796 and ask about our California Tax Discount. Yes, death and taxes are unavoidable but we can help by giving you a "California Discount" tailored to your tax rate.
OPTIONAL ACCESSORIES
What else will you need to use the telescope?
We recommend the following accessories:
Camera: One or more of the following

Starlight Xpress SX694 Combo: Starlight Xpress SX694 CCD camera, mini filter wheel and Lodestar 2 autoguider.
DSLR T-Ring: Choose the appropriate 42mm T-ring for your particular camera brand.
CCD Camera: Choose from our wide variety of 42mm extensions to match the backspacing of your camera, call us if you need assistance calculating the correct distance.

Filters: Astrodon filter set (LRGB and Ha made for the SX694 filter wheel).
Visual Finderscope: F50M2 Finderscope and mounting rings.
Mount and tripod: One of the following


CGEM Mount: The Celestron CGEM Mount and stainless steel tripod will hold your SVS130 with great stability. The 40,000 object computer will allow you to view faint celestial objects with the push of a button.

MYT Mount: The Paramount MYT is THE best mount to use for astrophotography. It is pricey but works perfectly.
SPECIFICATIONS:
Optical System:
130 mm clear aperture, f-5, 655 mm focal length sextuplet apochromatic astrographic system with three lenses each in two groups using both ED and Lanthanum glasses.
Tube Assembly:
All aluminum, Instrument White, fully baffled, 5.5" diameter tube. This Astrograph is 33 1/2" with the dew shield and focuser retracted. The focus adds up to 1" in length and the dewshield extends an additional 5 1/4" making the maximum length 39 5/8
Dew Shield:
6 5/8" diameter, 9 5/8" long retracting aluminum dew shield in Instrument White with black anodized fittings.
Focuser:
Optec 3" TCF-S3 motorized, temperature compensating focuser. The total linear travel of the drawtube is 1.00-inch with a resolution of 0.0001-inch. Cables including the temperature sensor cable included.
Mounting Rings:
Very heavy duty, American made cnc mounting rings using 6061 T6 aluminum plate. Five threaded 1/4-20 holes top and bottom spaced 1.5" and 60 mm apart with one in the center. 5 mm side hole for reflect finder mounting.
Mounting Plate:
Stellarvue TP13 Losmandy Style mounting plate is included.
Weight:
23.8 pounds. Rings weigh 1.4 pounds each.
Case:
C130L Thickly padded, heavy duty case.

Backfocus: 70 mm
Camera Attachment Thread: From M42 - M82 depending on customer's requirements. Stellarvue will literally fit the instrument to the camera. Please make sure to mention your camera make, model and backfocus measurement (including filters) with your order.
Image Circle: 40mm
Other Details
STELLARVUE LIMITED WARRANTY FOR U.S.A. AND CANADA END PURCHASERS ONLY Stellarvue (SV) warrants that each SV brand telescope and accessory shall be free from defects in materials and workmanship for two years from the date of purchase. SV will repair or replace such product or part thereof, which upon inspection by SV is found defective in materials or workmanship. As a condition to the obligation of SV to repair or replace such product, the product must be returned to SV as specified in this warranty. THIS LIMITED WARRANTY, AND ANY IMPLIED WARRANTIES THAT MAY EXIST UNDER STATE LAW APPLY ONLY TO THE ORIGINAL PURCHASER AND LASTS ONLY AS LONG AS THE PURCHASER OWNS THE PRODUCT. Warranty and repair return requirements: • Proof of purchase acceptable to SV must accompany any return for warranty work. • A return Authorization must be obtained from SV in advance of return. E-mail Stellarvue at mail@stellarvue.com or call (530) 823-7796 to receive the authorization & packing instructions. • The authorization code must be written on the outside of the container. • All returns must be accompanied by a written note stating the model number of the product, authorization code, name, address, e-mail address and daytime telephone number of the owner, and an explanation of the problem. Replaced parts shall become the property of SV. • The customer shall be responsible for all costs of transportation and insurance, both to and from SV. SV Requirements • SV shall use reasonable efforts to repair or replace any product covered by this limited warranty within thirty days of acceptance. If repair will take longer, SV shall notify the customer. • SV may replace any product that has been discontinued with a new product of comparable value and function. Products that have been damaged, dropped, disassembled, abused, misused, mishandled, subjected to temperature or weather extremes, subjected to unusual wear or modified in any way will not be covered by this warranty. In these instances, this warranty shall be null and void. THESE WARRANTIES REPLACE ALL OTHER WARRANTIES EXPRESSED OR IMPLIED INCLUDING, BUT NOT LIMITED TO THE IMPLIED WARRANTIES OF MERCHANTABILITY AND FITNESS FOR A PARTICULAR PURPOSE. SV MAKES NO EXPRESS WARRANTIES BEYOND THOSE STATED HERE AND DISCLAIMS ALL OTHER WARRANTIES, EXPRESSED OR IMPLIED, INCLUDING, WITHOUT LIMITATION, IMPLIED WARRANTIES OF MERCHANTABILITY, AND FITNESS FOR A PARTICULAR PURPOSE. THE SOLE OBLIGATION OF SV UNDER THIS LIMITED WARRANTY SHALL BE TO REPAIR OR REPLACE THE COVERED PRODUCT, IN ACCORDANCE WITH THE TERMS SET FORTH HEREIN. SV DISCLAIMS ANY LOST PROFITS, GENERAL, SPECIAL, INDIRECT OR CONSEQUENTIAL DAMAGES WHICH MAY RESULT FROM BREACH OF ANY WARRANTY, OR ARISING OUT OF THE USE OR INABILITY TO USE ANY SV PRODUCT FOR ANY PARTICULAR PURPOSE. THIS WARRANTY GIVES YOU SPECIFIC LEGAL RIGHTS AND YOU MAY ALSO HAVE OTHER RIGHTS THAT VARY FROM JURISDICTION TO JURISDICTION. WARNING: LOOKING AT THE SUN CAN CAUSE SERIOUS EYE INJURY AND BLINDNESS. NEVER POINT A TELESCOPE AT OR NEAR THE SUN. VIEWING THE SUN WITHOUT A PROPER SOLAR FILTER MAY RESULT IN BLINDNESS, AS WELL AS DAMAGE TO THE INSTRUMENT. NEVER ALLOW CHILDREN TO USE BINOCULARS OR TELESCOPES DURING THE DAYLIGHT HOURS, UNLESS THEY ARE SUPERVISED BY AN ADULT WHO UNDERSTANDS THE DANGER OF POINTING ANY OPTICAL INSTRUMENT IN THE GENERAL DIRECTION OF THE SUN.
Custom Field
Product Reviews