Stellartrips
Stellarvue is more than a telescope company. We are a community, a Stellar-family, brought together by a deep love for the night sky. We enjoy sharing our passion with one another. We also love seeing and hearing about the brand loyalty our customers demonstrate first hand. It reminds us why we work so hard to develop and produce such high-quality telescopes and products.
Our Stellar-family has meetups throughout the year including educational programs, trade shows, and dark sky star parties.
STELLARVUE 2019 SCHEDULE OF COMING EVENTS
(We will be adding events as they are scheduled, check back for updates.)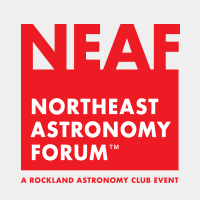 2019 Northeast Astronomy Forum (NEAF). Confirmed dates are April 6 & 7, 2019.
We will once again be attending NEAF and look forward to seeing our many customers who make this forum an annual event. Stop by our booth and see Vic demonstrate and discuss making our world-class SVX series optics. Individually hand figured in-house, these are the most accurate lenses ever offered by Stellarvue. NEAF's website.



Stellarvue's Annual Dark Sky Star Party (DSSP), July 4-7, 2019. The population of Likely will again increase this year when we assemble at the tiny California town in the Northeastern part of the State. DSSP is a benefit of ownership for people who observe and image with Stellarvue telescopes. It is a private event we sponsor specifically for our customers. In order to maintain a comfortable event, we always limit attendance to a total of 50 people. We fill positions on a first, come, first served basis, and hold onto some spaces for new Stellarvue telescope owners. Click Here for more information.

STELLARV

UE 2018 S

CHEDULE OF EVENTS
Stellarvue sponsors Lassen Dark Sky Festival, August 3-4, 2018
Stellarvue is proud to be an official sponsor of Lassen's Dark Sky Festival. Blue skies and dark nights give visitors great views at Lassen National Park. While the smoke from several fires reduces visibility somewhat, Lassen's elevation and status as a dark sky place makes this the place to be. Vic Maris will show hundreds of visitors the planets and star clusters through a Stellarvue SV80-Access telescope. Vic also presents his Majesty of the Night Sky program at the Loomis Visitor Center.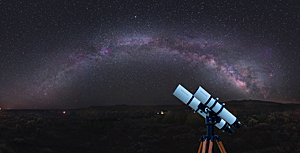 Stellarvue Dark Sky Star Party (DSSP): Thursday-Sunday June 1

4-17
We just returned from this year's big party, click here to see some of what happened on our 2018 DSSP PAGE.
Stellarvue reserves the Likely Place RV Park during the most favorable new moon weekend of the year, and caters the dinners. This facility has full hookups, a telescope field with power, an 18-hole golf course and a cafe (camp without the cooking!).
We also present numerous educational programs during the event. Attendance is limited to Stellarvue owners who sign up in time. This program is a benefit of ownership for Stellarvue telescope owners. See last year's DSSP on our 2017 DSSP PAGE.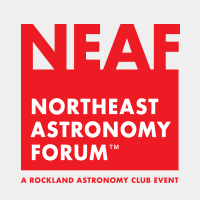 Saturday and Sunday, April 21 & 22. Northeast Astronomy Forum (NEAF)
We attended the 2018 NEAF conference and proudly introduced our Optimus 13.5 mm 100 degree eyepiece. We developed this eyepiece to fill void between 9 and 20 mm offerings. This is an excellent addition, allowing for incredible deep sky views. We always value the face to face interaction we get while attending NEAF. If you ever plan to attend NEAF, plan to spend the entire weekend in Suffern, New York. For more information visit their website.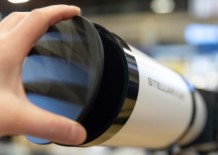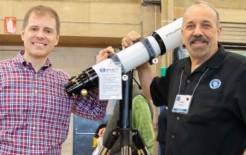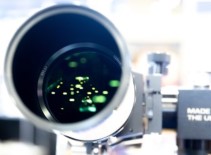 Photos shared and taken by customers attending NEAF 2018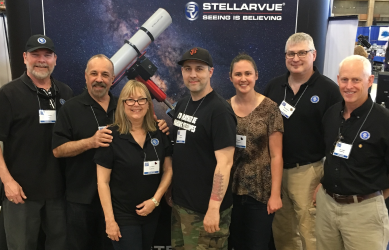 Photo (Left to Right) Preston Smith, Vic Maris, Jan Maris, Clancy, Tanya, Bill Schlein, Jon Talbot

The Weatherwax Magical Mystery Tour Group continues at NEAF! Galileo (Vic Maris), the Pope (Jeff Simon) and Galileo's Daughter (Karen Christen).