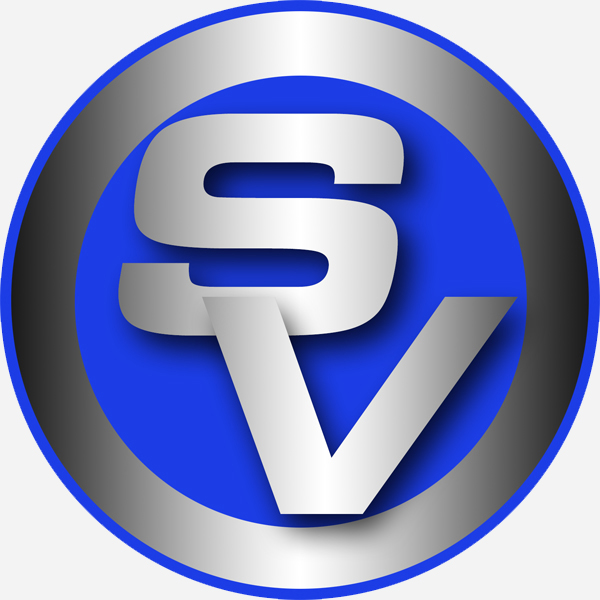 Stellarvue designs and handcrafts the best refractor telescopes for sale. Using advanced test equipment, we triple test each telescope to ensure razor-sharp, high contrast views and images of the universe.

Once again, Stellarvue is expanding!


This week Stellarvue is up and running. Our offices have moved to 11802 Kemper Road (old address was 11820). Please bear with us this week as most staff members are still moving thousands of parts and getting the new telescope assembly shop up and running. You may still order through our website and we will continue to fill orders daily this week. Our former office/warehouse and assembly shop will be dedicated to machining (glass and metal), optical grinding, polishing and testing. Our new space will house our offices, telescope and parts assembly/testing area, inventory and shipping. As I mentioned last week, our new offices will not include a showroom as we need as much space as possible for manufacturing. We apologize for any inconvenience during our move. Staff is on board and will be working long hours to make all of this happen over the next two weeks. Thank you!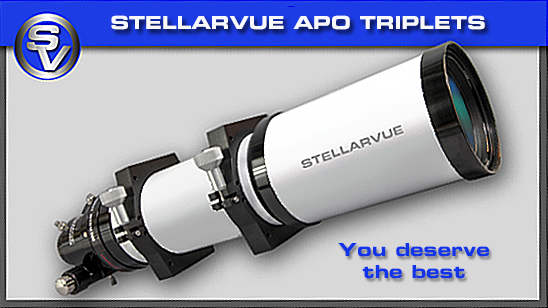 Stellarvue SV102T Apo Triplet Refractor Now Available
We have produced a new run of SV102T Apo Triplets in aluminum! These have the same high performance Apo triplet that is used in our 102mm carbon fiber raptors. They are available now and can be shipped with our 2.5" focuser immediately. Get yours today!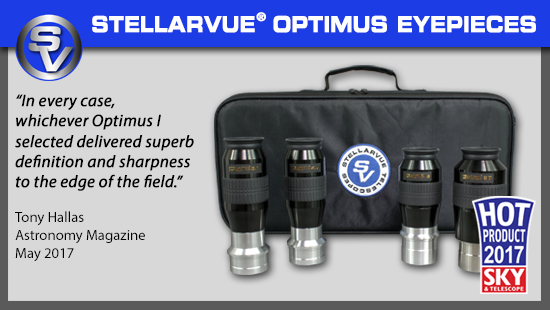 The latest issue of Astronomy magazine features a review by Tony Hallas of the Stellarvue Optimus eyepieces. It's a great review and a must read! Click here to read the review.
Also, every purchase of the Stellarvue Optimus eyepiece set now includes a convenient carrying case!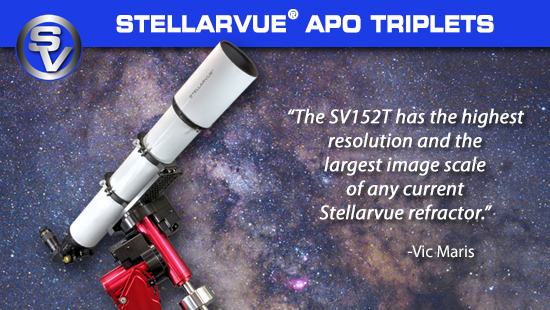 Stellarvue Flagship SV152T Apo Triplet Refractor
We are producing another run of our 152mm flagship refractor telescope, the SV152T. These will employ a high Strehl Apo triplet objective with an FPL53 center element and a rear element of Lanthanum. We build these one at a time so the sooner you order, the sooner we will deliver yours! Get the details here.