Stellarvue® designs and handcrafts the best refractor telescopes for sale.
Using advanced test equipment, we triple-test each telescope to ensure razor-sharp, high-contrast views of the universe.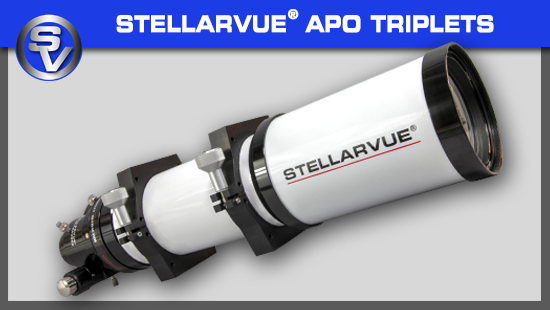 Stellarvue SV102T Apo Triplet Refractor Now Available
We have produced a new run of SV102T Apo Triplets in aluminum! These have the same high performance Apo triplet that is used in our 102mm carbon fiber raptors. They are available now and can be shipped with our 2.5" focuser immediately. Get yours today!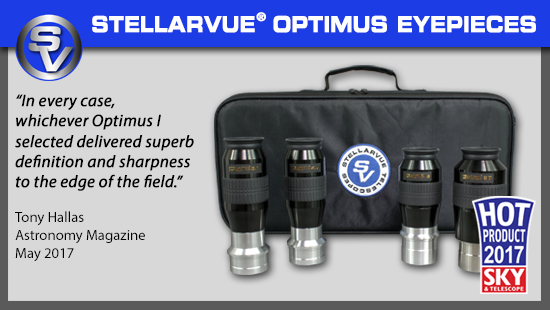 The latest issue of Astronomy magazine features a review by Tony Hallas of the Stellarvue Optimus eyepieces. It's a great review and a must read! Click here to read the review.
Also, every purchase of the Stellarvue Optimus eyepiece set now includes a convenient carrying case!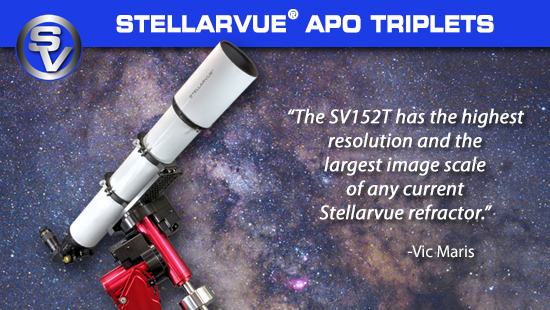 Stellarvue Flagship SV152T Apo Triplet Refractor
We are producing another run of our 152mm flagship refractor telescope, the SV152T. These will employ a high Strehl Apo triplet objective with an FPL53 center element and a rear element of Lanthanum. We build these one at a time so the sooner you order, the sooner we will deliver yours! Get the details here.