Product Description
Stellarvue SVX080T-R Limited Edition - We have acquired more carbon fiber tubes and we are now offering them for the standard price of our aluminum tube 80 apo triplets. Get this free upgrade to carbon fiber while they last. Available only from Stellarvue.
Stellarvue SVX080T-R Limited Edition with Stellarvue FSV-25A 2.5" fully rotating focuser, 2" and 1.25" compression ring adapters, dual heavy duty mounting rings, certified, extremely high Strehl optics, C20 airline carry on case.
This Stellarvue features an 80 mm f-6 (480 mm focal length) fully multi-coated, 3 element objective lens with an Ohara FPL-53 center element. The objectives are hand figured in our optical shop here to exceed .98 Strehl. Interferometric test report included.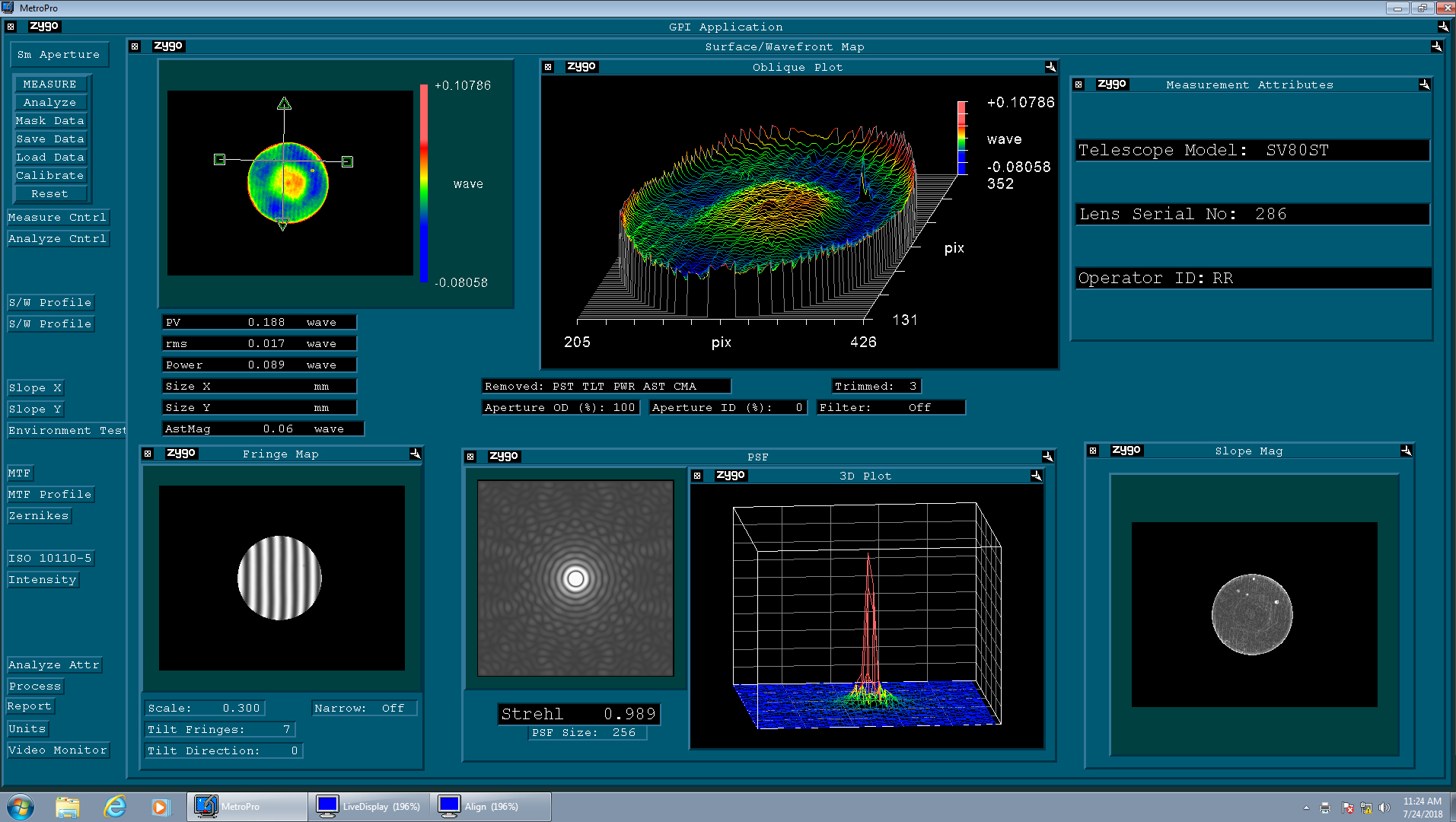 Each lens focuses light precisely and in addition the extreme broadband coatings on each surface enhance it even further. Using it visually, the stars appear vivid and the background, velvet black. Since these coatings transmit more than 99% in the visual spectrum and far above and below it, reflections seen on CCD images are eliminated. The relatively fast speed and high Strehl optics make the 80 apo an excellent wide field imaging telescope while the visual performance is simply stunning.
Tube and dew shield: Comes with a beautiful carbon fiber tube and dew shield with velvet black interior. Yes velvet black because we use actual velvet. We use aluminum rings in this system that are imported to keep the price low. They are threaded for 1/4-20. Fittings are black anodized aluminum. The dew shield retracts reducing the length of the telescope when being stored. Extending the dew-shield minimizes dewing of the objective at night and serves as a glare shade during the daytime.
Motorized Focuser Options: Optec and Starizona
Light gathering and magnification power: An 80 mm refractor gathers 131 times the amount of light the naked eye does. Although Dawes limit states maximum power for telescopes under good conditions is about 189 power for an 80 mm telescope, you can exceed this power on a steady night. This is a true apo triplet capable of high power when conditions permit. Check the Recommended Accessories section to make the best choice for eyepieces.
Two year warranty and Stellarvue's Service: We are with you for life. Stellarvue telescopes and accessories are covered by a two year warranty. But it does not stop there. Since we are a telescope maker, we can repair your telescope for a very nominal fee years after it goes out of warranty, should you accidentally drop it on concrete or otherwise damage it. Buy a Stellarvue Telescope with confidence. Our customer care is legendary.
OPTIONAL ACCESSORIES
What else will you need to use the telescope?
We recommend the following accessories:
Star Diagonal: Our fantastic 2" Quartz diagonal normally sells for $249. When you buy it with one of our telescopes you can get it for $199 by selecting the option at the top of the page: "

Photographic Field Flattener: Convert your 80T into a 480 mm f-6 flat field astro-graph using our

Photographic Field Flattener

.



Guide scope:

F50G

Finder scope and

mounting rings.


Eyepieces: We recommend the complete assortment of Stellarvue Optimus Eyepieces. The 20 mm will provide you with an enormous field of view which will make it easy to locate objects you see in the sky, It will also show you extended objects like the Andromeda Galaxy. Scan the Milky Way with this eyepiece and see hundreds of stars in each field of view. The 9 mm eyepiece is ideally suited for deep sky objects including nebulae, star clusters and faint galaxies. This eyepiece reveals more structure in faint nebulosity with higher contrast. The 3.6 and 4.7 are perfect for viewing planets, double stars and smaller craters on the moon. Under average skies the 4.7 will work best but when the seeing conditions are optimal, the 3.6 mm will show you more detail and enlarge smaller objects even more.


Mount and tripod: One of the following:



AVX Mount: The Advanced AVX mount is a lightweight, inexpensive and portable motorized, go-to mount. It takes several minutes to set up but once you do, you can use the computer to locate objects and once they are in the eyepiece, the tracking function will keep them there.


Losmandy GM811G Mount and tripod. This is the

best priced American made mount

.




MYT Mount: The Paramount MYT is THE best mount to use for astro-photography. It is pricey but works perfectly. It can also be used to drive any Stellarvue refractor including our SV152T Flagship.
Product Videos
Custom Field
Product Reviews