Product Description
SVX130T Operators Manual: Click here for our online manual SVX130T
This is the latest version of our 130 mm apo triplet refractor. Two important factors make this lens superior:
1. This model uses a unique lens design that provides excellent sphero-chromatic correction using an extra low dispersion center element and a very expensive Lanthanum rear element. This lens has a unique glass combination that delivers color free, high contrast performance.

2. These are not mass produced optics. The SVX130T objective is hand figured in our optical shop in Auburn California to the highest optical specifications. We address spherical issues, astigmatism, trefoil and coma by individually hand crafting each objective by machine and by hand. We provide a certified American test report with every 130 mm telescope we manufacture demonstrating its optical prowess. This lens, with its optical design and high optical accuracy outperforms less expensive lenses of standard commercial quality.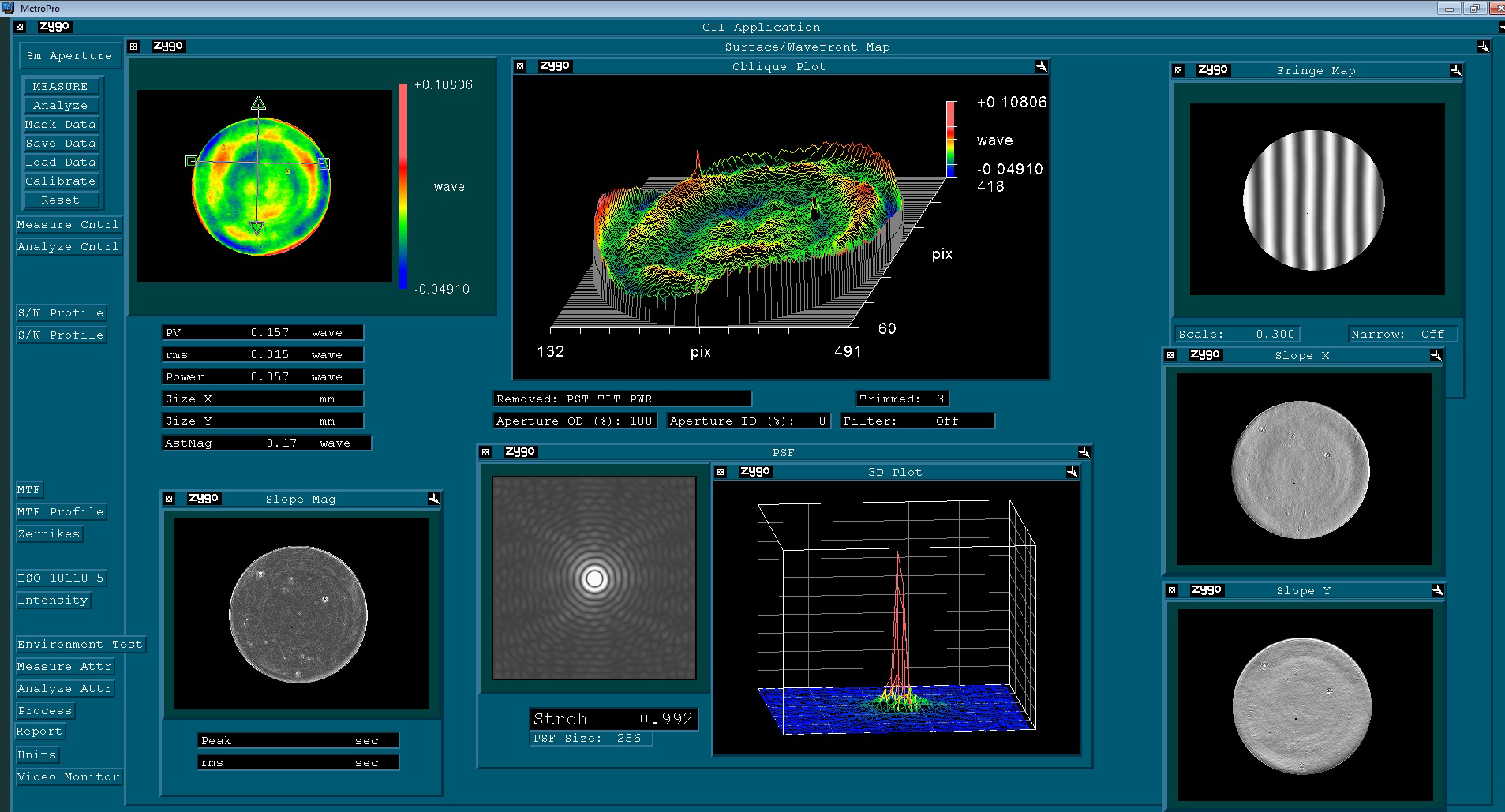 More: Air spaced lenses that are 5" and larger are often mounted in aluminum cells. These cells expand and contract many times more than the glass. The larger the lens is, the more important it is to have it mounted in a cell with a similar coefficient of expansion (CTE). LZOS in Russia has always provided their 130 mm and larger lenses in a steel cell for this reason. Many other 127 - 130 refractors use simple aluminum cells which expand and contract around the glass many times more than our cells, distorting the image. Using a material that closely approximates the expansion and contraction rate of the glass is heavier and much more expensive but it maintains the performance of the lens despite dropping temperatures.
The SVX130 is a full triplet apo. Expect zero false color, high contrast and an exceptional star test.
Our new 3.5" dual speed rack and pinion focuser comes with draw tube rotator to provide more accurate rotation when imaging. We enhance the performance of these focusers by using bearings that have no slop when properly adjusted. The 3.5" aperture significantly reduces vignettng seen in 130's with smaller focusers.
We use American made CNC mounting rings, a retracting dew shield, metal dust cap and protective case.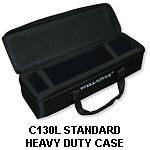 The Stellarvue C130L comes standard with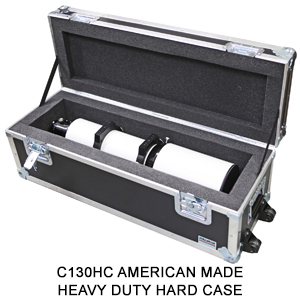 the SVA130T. This is our largest heavy duty soft case. It is made of the same heavy duty construction as our other thickly padded travel cases. Outside dimensions are 39" X 10 1/2" X 101/2". Inside dimensions are 36" X 8" X 8". Has two internal dividers that are held in place by velcro and can be easily removed.
The optional C130HC is quite a case! It is made of 3/8" plywood and finished with tough PVC laminate, metal edges, and steel corner reinforcing brackets. Features include two dolly wheels to help you move it around, a spring-loaded heavy-duty handle that is flush to the case, two turn-to-open draw latches, three metal hinges and webbing straps to keep the lid from falling backwards. The case interior is lined with foam, and a custom cutout is provided for your 130. Outside dimensions are 43" x 13" x 14" and the weight (without telescope) is 28.6 pounds.
Free shipping: Order now and when ready the telescope will ship free to the lower 48 states only. Shipping will be either UPS or Fed Ex whichever has the lowest rate.
OPTIONAL VISUAL ACCESSORIES
You will need a star diagonal, eyepieces, mount and tripod to observe with this telescope. You will find a finder scope helpful in locating objects. We recommend the following:
Finder Scope: Optional. We recommend the F50W2 finder scope. The proper ring system for this finder is the R50DA ring system.
Diagonal: Optional. Please note, you can purchase our best 2" diagonal above and save $50.
Eyepieces: Optional. We recommend our best eyepieces for this telescope, a complete set of the Stellarvue Optimus.

Mounts: For strictly visual use the M002CS is a basic alt az mount that will hold the SVX130T with stability.
For imaging we recommend:
Losmandy GM8-11G as a good portable tripod/mount and the G11 if you want the best stability.
Paramount MYT. This is a great choice for accurate long exposure imaging.


IMAGING ACCESSORIES
A field flattener or reducer flattener turns your SVX130 into a stunning astro-graph.


Field Flattener: Shoot at 910 mm focal length at f-7. Use the SFF4-130T-35SV

Focal Reducer/Field Flattener: Shoot at 680 mm focal length f-5.25. Use the SFFRR.72-130-48
Other Details
STELLARVUE LIMITED WARRANTY FOR U.S.A. AND CANADA END PURCHASERS ONLY Stellarvue (SV) warrants that each SV brand telescope and accessory shall be free from defects in materials and workmanship for two years from the date of purchase. SV will repair or replace such product or part thereof, which upon inspection by SV is found defective in materials or workmanship. As a condition to the obligation of SV to repair or replace such product, the product must be returned to SV as specified in this warranty. THIS LIMITED WARRANTY, AND ANY IMPLIED WARRANTIES THAT MAY EXIST UNDER STATE LAW APPLY ONLY TO THE ORIGINAL PURCHASER AND LASTS ONLY AS LONG AS THE PURCHASER OWNS THE PRODUCT. Warranty and repair return requirements: • Proof of purchase acceptable to SV must accompany any return for warranty work. • A return Authorization must be obtained from SV in advance of return. E-mail Stellarvue at mail@stellarvue.com or call (530) 823-7796 to receive the authorization & packing instructions. • The authorization code must be written on the outside of the container. • All returns must be accompanied by a written note stating the model number of the product, authorization code, name, address, e-mail address and daytime telephone number of the owner, and an explanation of the problem. Replaced parts shall become the property of SV. • The customer shall be responsible for all costs of transportation and insurance, both to and from SV. SV Requirements • SV shall use reasonable efforts to repair or replace any product covered by this limited warranty within thirty days of acceptance. If repair will take longer, SV shall notify the customer. • SV may replace any product that has been discontinued with a new product of comparable value and function. Products that have been damaged, dropped, disassembled, abused, misused, mishandled, subjected to temperature or weather extremes, subjected to unusual wear or modified in any way will not be covered by this warranty. In these instances, this warranty shall be null and void. THESE WARRANTIES REPLACE ALL OTHER WARRANTIES EXPRESSED OR IMPLIED INCLUDING, BUT NOT LIMITED TO THE IMPLIED WARRANTIES OF MERCHANTABILITY AND FITNESS FOR A PARTICULAR PURPOSE. SV MAKES NO EXPRESS WARRANTIES BEYOND THOSE STATED HERE AND DISCLAIMS ALL OTHER WARRANTIES, EXPRESSED OR IMPLIED, INCLUDING, WITHOUT LIMITATION, IMPLIED WARRANTIES OF MERCHANTABILITY, AND FITNESS FOR A PARTICULAR PURPOSE. THE SOLE OBLIGATION OF SV UNDER THIS LIMITED WARRANTY SHALL BE TO REPAIR OR REPLACE THE COVERED PRODUCT, IN ACCORDANCE WITH THE TERMS SET FORTH HEREIN. SV DISCLAIMS ANY LOST PROFITS, GENERAL, SPECIAL, INDIRECT OR CONSEQUENTIAL DAMAGES WHICH MAY RESULT FROM BREACH OF ANY WARRANTY, OR ARISING OUT OF THE USE OR INABILITY TO USE ANY SV PRODUCT FOR ANY PARTICULAR PURPOSE. THIS WARRANTY GIVES YOU SPECIFIC LEGAL RIGHTS AND YOU MAY ALSO HAVE OTHER RIGHTS THAT VARY FROM JURISDICTION TO JURISDICTION. WARNING: LOOKING AT THE SUN CAN CAUSE SERIOUS EYE INJURY AND BLINDNESS. NEVER POINT A TELESCOPE AT OR NEAR THE SUN. VIEWING THE SUN WITHOUT A PROPER SOLAR FILTER MAY RESULT IN BLINDNESS, AS WELL AS DAMAGE TO THE INSTRUMENT. NEVER ALLOW CHILDREN TO USE BINOCULARS OR TELESCOPES DURING THE DAYLIGHT HOURS, UNLESS THEY ARE SUPERVISED BY AN ADULT WHO UNDERSTANDS THE DANGER OF POINTING ANY OPTICAL INSTRUMENT IN THE GENERAL DIRECTION OF THE SUN.
Product Videos
Custom Field
OBJECTIVE LENS
Air spaced 130 mm, 910 mm focal length (f-7) fully multi-coated, apochromatic triplet using a combination of extra low dispersion and Lanthanum elements. Lens is mounted in an adjustable steel cell. .95 Strehl or better, test report included.
TUBE ASSEMBLY
All aluminum, Instrument White, fully baffled, 5.5" diameter tube. Telescope is 29.5" long with dew shield retracted and 35" long when extended.
DEW SHIELD
6 5/8" (168 mm) diameter, 9 5/8" long retracting aluminum dew shield in Instrument White with black anodized fittings.
DIMENSIONS
OTA: 5.5" diameter, 29.5" long with dew shield retracted and 35" long when extended.
WEIGHT
OTA: 16.8 pounds. Rings weigh 1.4 pounds each. Slightly heavier with the Feather Touch option.
FOCUSER
Stellarvue's highly rated 3.5" dual speed, rack and pinion focuser with 2" and 1.25" threaded adapters. Includes our standard FBB dovetail shoe for use with our finder scope rings.
RINGS
Very heavy duty, American made cnc mounting rings using 6061 T6 aluminum plate. Five threaded 1/4-20 holes top and bottom spaced 1.5" and 60 mm apart with one in the center. 5 mm side hole for reflect finder mounting.
CASE
C130L Thickly padded, heavy duty case. Optional C130HC hard case available as an upgrade.
DIAGONAL
Optional. Please note, you can purchase our 2" diagonal upgrade for only $139 above. The upgrade diagonal is the same as the D1029ED deluxe dielectric diagonal but it does not come with the FA2 adapter since the telescope already has one.
PHOTOGRAPHIC FIELD FLATTENER
Optional. We recommend the SFFR130-35SV
LIGHT GAIN
345 X (human eye = 1)
CONTRAST & COLOR CORRECTION (1-10)
10
Image Circle with 3.5" Focuser and .72X Reducer/Flattener
40mm
Product Reviews