Product Description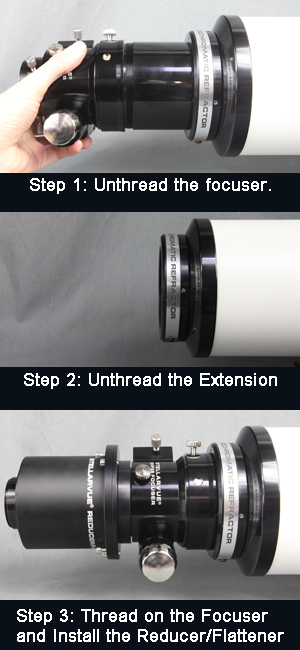 The Stellarvue SFFR.72-130-25-42 Reducer/Flattener threads into the 2.5" focuser version of the SVA130T and provides .72X reduction, converting the 130 mm f/7 system into f/5 for wide field imaging. This version of the reducer/flattener comes with adapters that provide 55 mm of backfocus with an M42 male thread for the camera.
This giant reducer/flattener will convert the 130 mm f/7 visual optical system in the SVA130T to a 130 mm f/5, 650 mm focal length imaging system. The basis of this dedicated system is the SFFR.72-130 reducer flattener. While it has 55 mm of back focus with the included adapters, should you choose to use this unit without the adapter you will have approximately 70 mm of back focus using the M69X1 rear thread. This full frame reducer flattener has been responsible for many of the amazing images taken recently with the SVA130T.
Questions? Call us at (530) 823-7796. We have hundreds of machined threaded adapters now in stock and we can outfit this reducer flattener for practically any camera on the market.
PLEASE NOTE: This unit is designed specifically for the SVA130T. It is not designed to work with other 130 mm refractors unless they have a removable 55 - 60 mm extension tube in front of the focuser as the SVA130T does (see pictures to the right).

Please note: These pictures show the 2.5" focuser
but the same steps apply with the 3" focuser.
Product Videos
Custom Field
Product Reviews